By Maury Thompson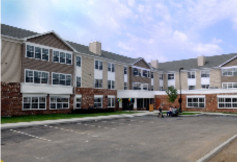 thompson@poststar.com
Seeing the Future
GLENS FALLS - Barbara Lefebvre, Janice Cady and Susan Parker were eager to get their first look inside apartments they will move into this month.
"When they say, 'Go in and see your apartment,' I'm going to go," Lefebvre said as she waited with her friends outside the latest building to be finished at the new Village Green Apartment complex.
A year ago, officials hoisted sledgehammers to mark the start of demolition of the Henry Hudson Townhouses.
On Thursday, they used a giant pair of scissors to snip the ribbon on a new three-story "mid-rise" apartment building, the latest of the new apartment units at Village Green.
"We've been on an exhaustive construction schedule for exactly a year now. ... We're almost there," said Charles Allen, a principle in Evergreen Partners.
Hudson Avenue Housing Associates, a joint venture between Evergreen Partners and Marathon Development Group, is in the process of replacing the old 136-unit townhouse complex with an equal number of apartment units for low-income individuals and families.
The three-story building that opened Thursday includes single-floor apartment units designed for the elderly.
Other new buildings have multilevel apartments designed for families.
Being on one floor appeals to Lefebvre, who will be moving from an older multilevel townhouse.
"Those stairs kill me," she said.
Parker was excited about having an apartment with a sturdy roof and dependable plumbing.
"All the leaks and the pouring in and the faucets -- I can't wait," she said, glad to be putting problems of her old townhouse behind her.
The former townhouse complex, often called "the chicken coops," was long considered an eyesore and had a reputation as a hotbed of crime.
Officials say the new apartments are a model for other communities.
"I think this project really shows the kind of work we want to do in housing around the state," said Deborah VanAmerongen, state commissioner of housing and community renewal.
People visiting her office remark about noticing the new housing going up across Hudson Avenue from Glens Falls Hospital, said state Sen. Elizabeth Little, R-Queensbury.
"They don't call it a project. They call it housing," she said.
Allen, at a meeting Wednesday evening with city officials, said the organizer of a tour of prominent homes in December has inquired about including the new housing complex on the tour.
Allen said his company is not just improving the appearance of the neighborhood, they're changing its reputation by enforcing tenant rules.
Since the company took over in January 2007, 45 households have been evicted or have left voluntarily because they were facing eviction, he said.
The developers have been demolishing older townhouse units and building new apartment buildings in phases.
The last of the older buildings will be demolished this month and next, with construction of new buildings expected to be completed around the end of the year, Allen said.
Some final features, such as landscaping, might stretch in to next spring.