By Melanie Lekocevic
Columbia-Greene Media I Posted: Thursday, April 30, 2015 12:00 am
http://www.registerstar.com/news/article-f613e184-eed8-11e4-9fc6-5f05747c9d75.html?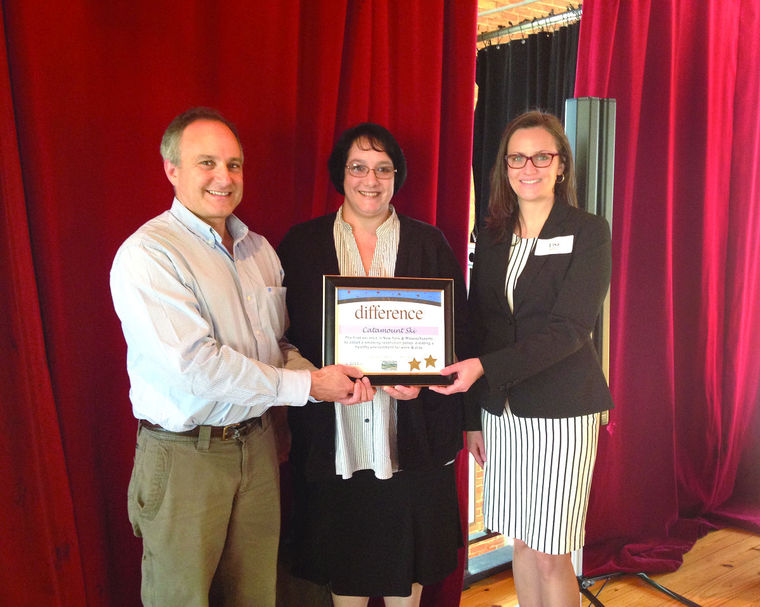 Ski resort, housing saluted for tobacco-free initiatives
HUDSON -Tobacco-Free Action of Columbia and Greene Counties on Wednesday saluted local groups who have taken steps to discourage smoking and encourage a healthy lifestyle.
Each spring the organization holds a breakfast to honor others who have joined them in their anti­ tobacco crusade, and this year's honorees were Catamount Ski Area and Catskill Mountain Housing Development Corp. Both have made their properties smoke-free, with the exception of designated areas, and both received the You Make a Difference Award.
"Sometimes people working in public health feel like the problems are never ending, but ... I see so much that is being done proactively to help people lead healthy lives, everything from vaccines to screenings to help with insurance, to good nutrition, to early childhood intervention and education, to politica l action and system reform," said Karen dePeyster, program director. "There is so much good work being done, with so much collaboration by people in this room and the agencies you represent, and we are glad to be part of it."
The featured speaker for the event was Sarah Finch from Hudson Terrace Apartments, speaking about the importance of safe and healthy affordable housing. The facility has, in recent years, come under new management and undergone major renovations .
The housing development has 13 buildings with a total of 168 units, including three playgrounds. In 2011, renovations that brought new roofs, siding, windows, insulation, heating, air conditioning and solar panels were completed, and the move toward smoke-free housing began.
At the start, Finch said, two of the 13 buildings were smoke-free, with more following, and by the end of this year they expect the entire property to be smoke-free. Housing that doesn't allow smoking "even in tenants' own apartments" and has become increasingly common as concerns over second-hand smoke and other issues has grown.
"A lot of children live on these properties, and it was just the right thing to do," Finch said.
Lisa Heintz, of Tobacco-Free Action of Columbia and Greene Counties, presented awards to two local organizations that have also made big strides in eliminating "or at least greatly reducing" the amount of smoking on their properties.
Catskill Mountain Housing Development was recognized for its contributions to the movement. This year, management converted all 125 units on the property to smoke-free housing. Now, tenants are only allowed to smoke in designated areas.
In large part, the switch was made in response to tenants' complaints.
"We manage six apartment buildings in Greene County and we converted five of them to nonsmoking," said Executive Director Larry Krajeski. "One had already been no-smoking, and we converted the rest this year. We had a lot of tenant complaints about smoking and smoke odors.
Some of the frailer residents had issues with second-hand smoke."
But that wasn't the only driver in the decision. Tenants who smoke can also pose a risk of damage to the property, Krajeski said.
"It's also a maintenance issue-a smoker does a lot of damage to an apartment over time," he said. "Paint surfaces get deeply stained and counter tops get stained. For the most part, smokers have been compliant with not smoking in their apartment and inside the building."
For those who don't comply with the new rules, there are a "series of protocols" management can take, which can include opting not to renew their lease and eventually having them evicted. The property cannot impose fines or other such measures.
For nonsmokers, the move has been a welcome change.
"There are some people who are very adamant about non-smoking-some have health problems with second-hand smoke so they push hard to see that other tenants comply," Krajeski said.
Mostly, the transition has been successful, he said, though some tenants who smoke have moved out. The majority have been compliant with the new regulations, he added.
Catskill Mountain Housing Development is not alone in the move toward smoke-free housing.
"More and more properties are taking this up, so it's getting more difficult for a smoker to find a place where they can smoke in their apartment," Krajeski noted.
Also honored during Wednesday's breakfast was Catamount Ski Area, which is now smoke-free, with the exception of a handful of designated smoking areas. The transition, co-owner Rich Edwards said, has not posed many problems.
"There is not a heavy smoking population for winter skiers, but there is a segment that smokes, mostly older teens and young adults, and also employees on breaks," Edwards said. "I wouldn't say we curtailed their habit, but we have controlled to a large extent where they smoke."
Also presenting at the breakfast was Michelle Swanson, Tobacco-Free Action's Reality Check coordinator.
Reality Check is a program aimed at youth to encourage them to not take up the smoking habit.
The initiative has three major goals-reduce or eliminate store displays of tobacco products, encourage smoke-free media in the form of what children see on television and in the movies, and empower youth by giving them a voice to share their opinions on the importance of not using tobacco.
"Reality Check ... gives youth opportunities in public speaking, writing letters to movie studios and legislators, and writing letters to the editor of local newspapers," Swanson said. "They also have the opportunity for face-to-face contact with local and state legislators, social media, and much more. We try to encourage teens to come up with their own ideas for Reality Check, giving them the ability to really take leadership over their group, and their future."
One such initiative was an event held in March as part of Kick Butts Day, a national day of activism for young people. Reality Check partnered with students from Taconic Hills Middle and High Schools, Coxsackie-Athens High School and Hudson High School, with hundreds of students identifying themselves as "Not a Replacement"-meaning a replacement smoker for older smokers who have either quit or died from tobacco-related illnesses.