Hudson Terrace Prevention Breakfast Presentation By Sarah Finch
I'm happy to be here this morning and to have this opportunity to speak about Hudson Terrace Apartments. As you are probably aware, there are just not enough affordable housing options in Hudson or the surrounding area. There are even fewer affordable options that are desirable places to live. We are proud that Hudson Terrace is a place where people want to live. In fact, right now there are over 300 names on the waiting list.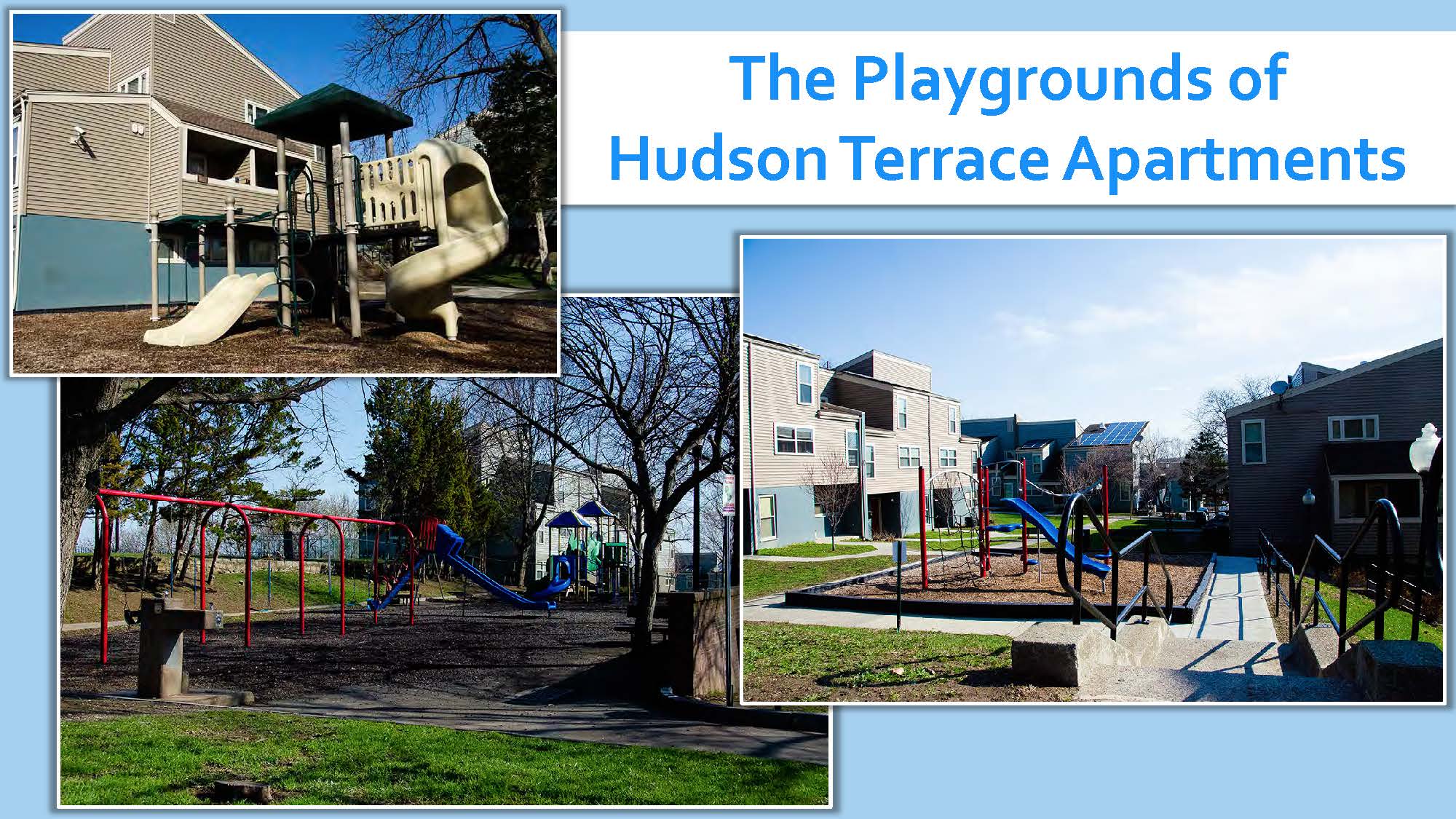 Hudson Terrace was built in the 1970's as a departure from the "high rise" concept of affordable housing. There are 13 buildings that contain a mixture of 1, 2 & 3 bedroom apartments for a total of 168 units. There are also 3 playground areas. The idea was to create a community or neighborhood atmosphere around Promenade Park. The complex got off to a controversial start because the new construction did replace many old houses, but it also filled a need that is even larger 40 years later.
In its heyday the buildings and grounds were attractive and well kept and the apartments were comfortable. Unfortunately, over the years, the whole place went into decline. By the late 1990's it was showing its age and wear, inside and out, and had begun to acquire an unsavory image and reputation.
Then in 2010, Evergreen Partners and Preservation Management took over the property and began a complete rehab. It was quite a project because tenants had to be shifted around as the work took place. When it was completed in 2011, the whole physical plant had been upgraded with: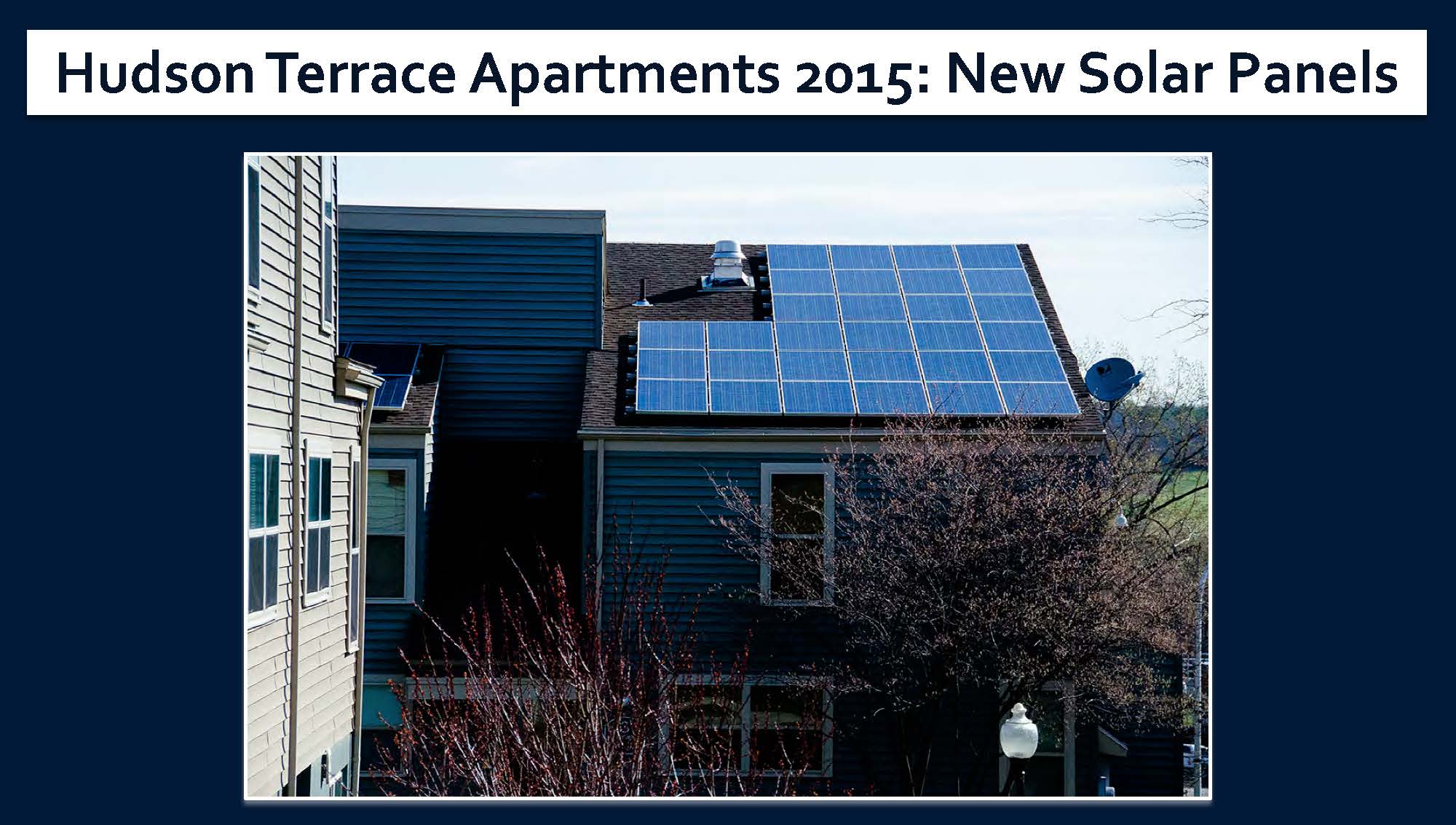 All new heating, from baseboard electric to natural gas forced air, and central air conditioning
All new water saver toilets
All new appliances
New roofs and solar panels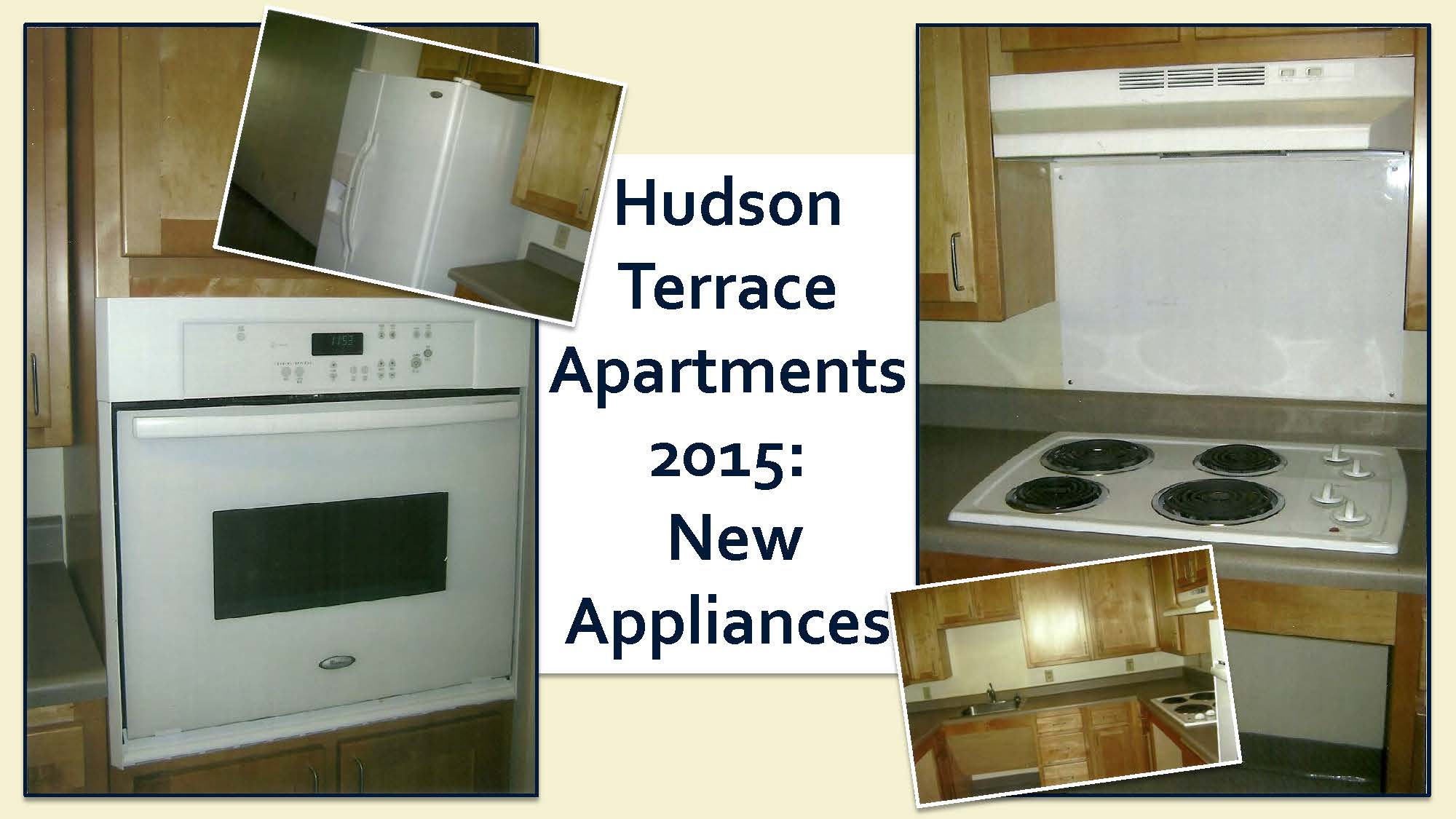 New siding
New windows
New sheetrock
New insulation
We also made two of the buildings completely smoke-free. As of this month 5 more buildings became smoke-free and by the end of the year the whole property will be a smoke-free zone. A lot of children live at Hudson Terrace and this is just the right thing to do.
It's amazing how living in a nice, modern, clean place that is taken care of can change people's outlook and behavior. For some people, it's the first time they have taken pride in their home. I have even seen it be life changing.
But it's not just the physical improvements that have made a difference. Stacey Ford, our Resident Services Coordinator, is an advocate for every tenant. Stacey conducts regular apartment visits and has a good rapport and a personal connection with most residents. She helps tenants avoid problems when possible or to face them when they happen by being a good listener, by connecting them to available resources, and by taking advantage of "teachable moments."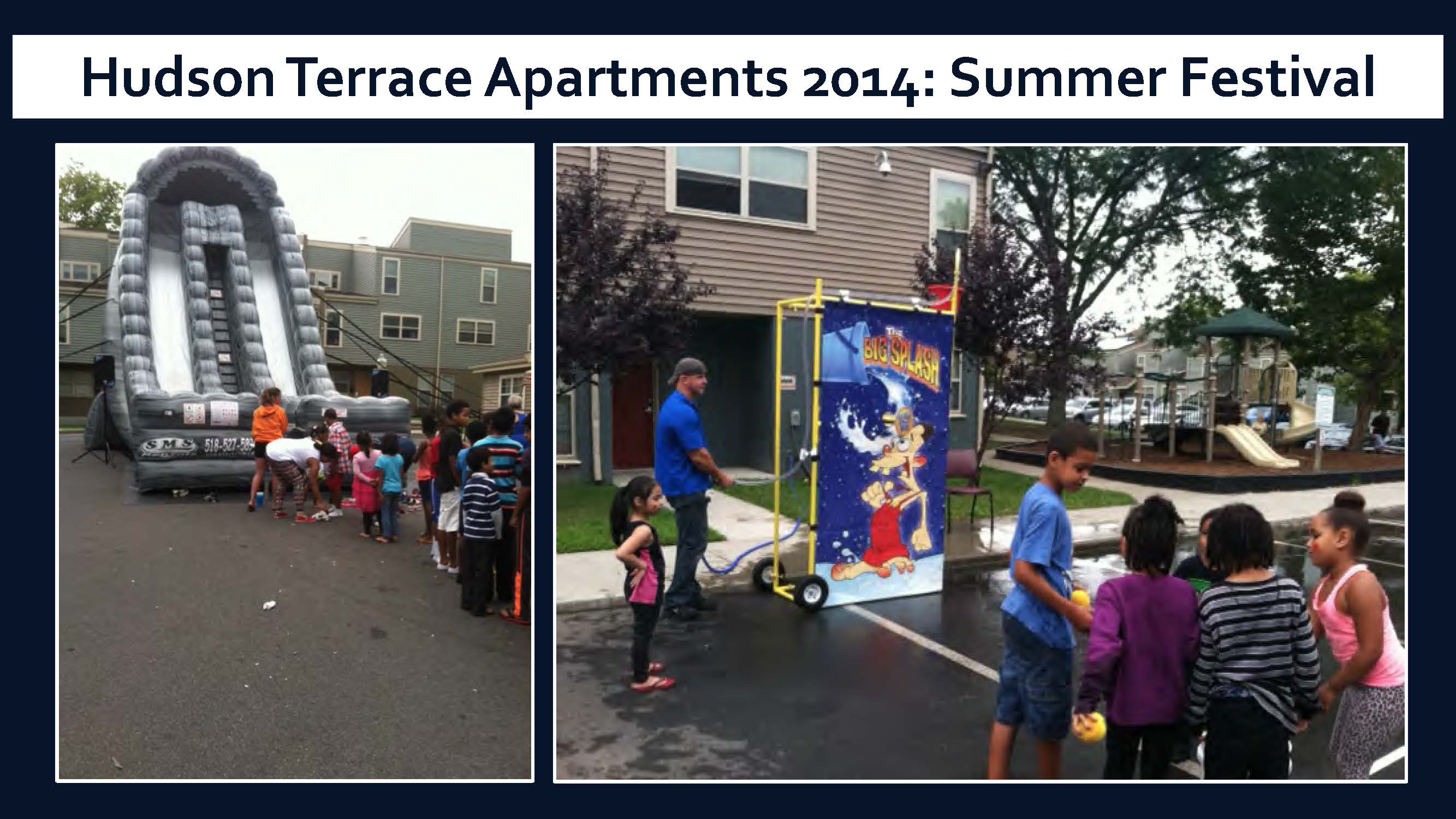 Stacey also organizes an annual "community cleanup" for HT residents and we supply a dumpster to make it easier for rummage, old furniture, and other no longer useable items to be safely disposed of. In the summer, we have a "family safety" day, with the Hudson police distributing bike helmets and car seats and even fitting the car seats properly in cars. Parents can also have their children fingerprinted as part of the child ID program offered by the police. Last year was our first "end of summer" festival, with an inflatable slide, a dunking chair, slushies, popcorn and other kid friendly activities. We plan to make this an annual event. It's our way of reinforcing that we are a community.
One thing lacking at Hudson Terrace is a community room. The original design didn't have one and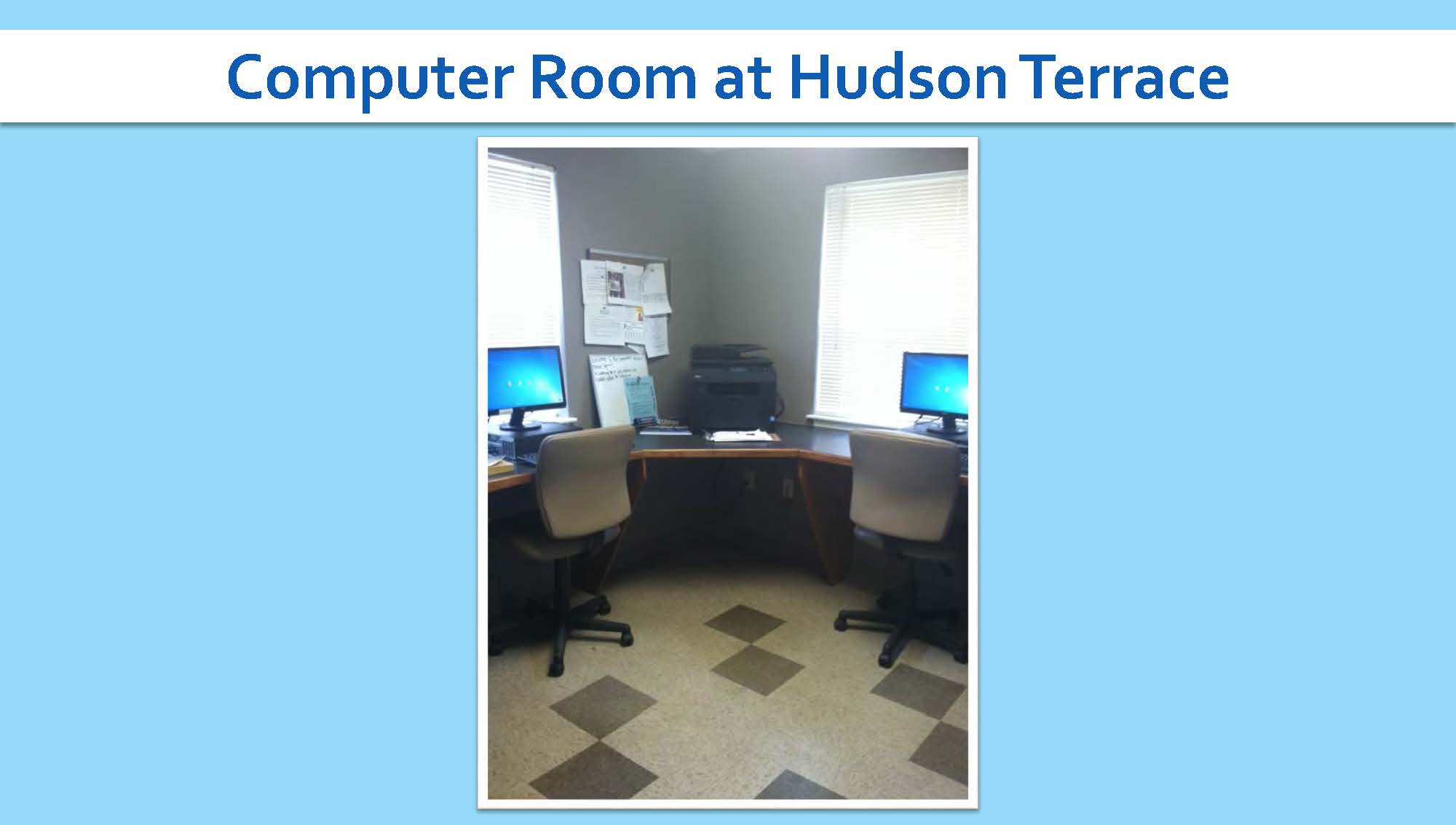 there is no room on the property to add one now. But we do have a very welcoming office, presided over by Chris Klein, our Assistant Site Manager. Every day lots of people stop by. Sometimes it's to drop off paperwork, but more often than not it's just to chat or to bring kids by to say hello. There is also a small computer room that is open for residents to use and a food pantry supplied by the Regional Food Bank.
Hudson Terrace is a business, of course, but it is run by what we consider an enlightened philosophy. Here is how Charlie Allen, one of the principal owners of both Evergreen Partners and Preservation Management, describes it. "I would just say that whatever we can do from a housing and support perspective to help make our residents' lives healthy and productive comes back to us in the form of a property that operates well. When people like where they live and feel safe and supported there, they respect the property and their neighbors, and they don't move. All of that helps us manage the property to a higher standard. It's a positive feedback cycle."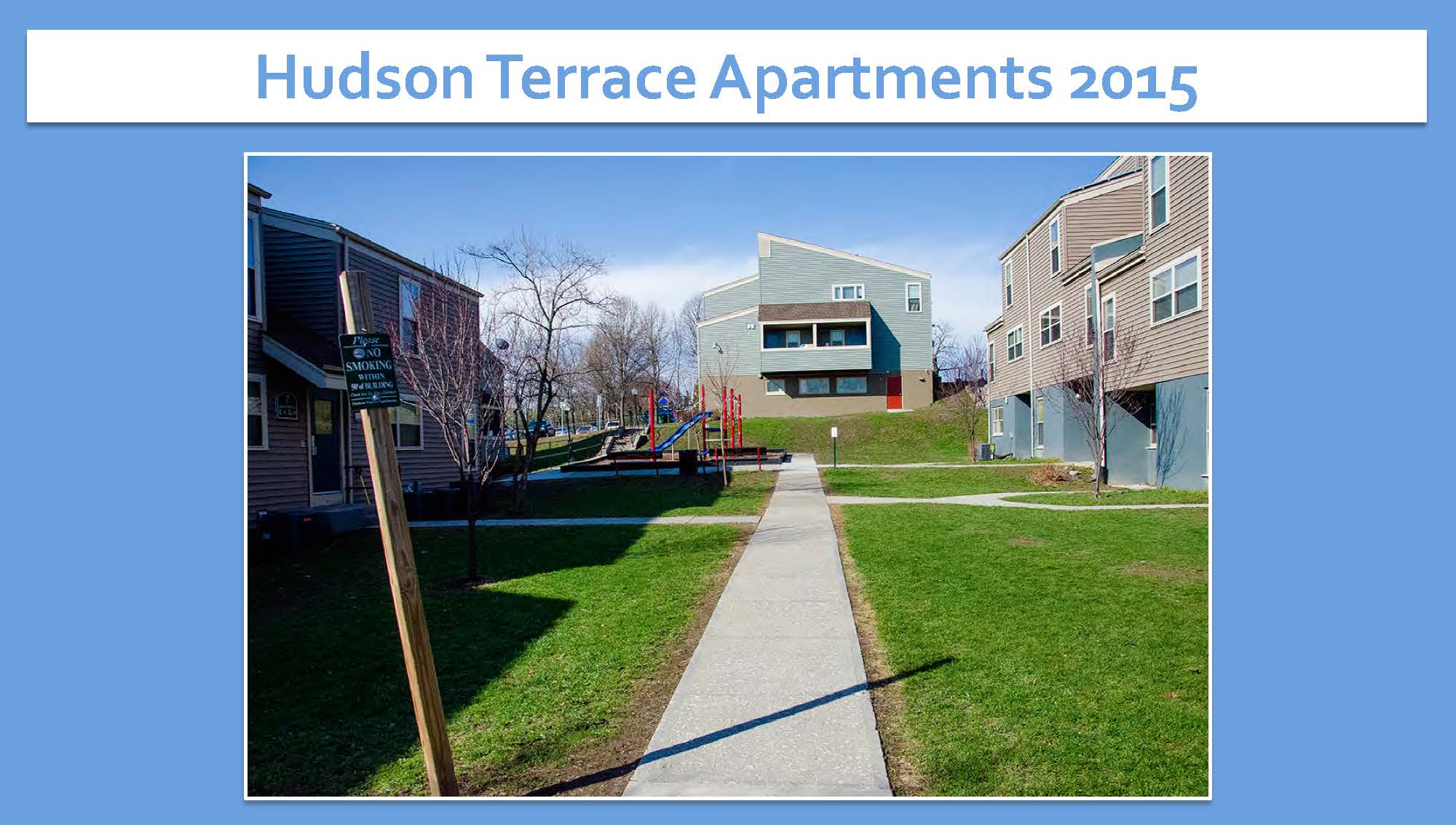 This is what we have going on at Hudson Terrace and Stacey, Chris & I are glad to be part of it. We wish there were more places like it because the need is certainly there.