A Case Study in the Preservation of Affordable Housing by Alexander von Hoffman
Excerpts from the original Case Study (click here to access the full article).
"Although Evergreen Partners was a for-profit company, not a mission-centered nonprofit organization, its principals took pride in their real estate work. They believed that high quality redevelopment at places like Skyview Park helped people and was a good business strategy. It was satisfying when low-income residents were pleased with the outcome and, importantly, their satisfaction was often transmitted to those government officials, especially state housing finance agency officials, who could help support future housing work. The Evergreen principals believed that to make a good living environment for low-income people, it was necessary to do more than just renovate the buildings well. They understood that other non-real estate elements such as safety, community facilities, and social services were also essential to the success of the project."
"For the people who worked at Skyview – from the property management staff to the police – the redevelopment was a godsend. The buildings were renovated with new roofs and windows and painted doors. Although some had been skeptical about the promises before the renovation, the residents were happy to have new kitchen cabinets, appliances, and bathrooms. The grounds were landscaped with lawns and flower beds, and are now neatly maintained by a regular crew. Residents, such as a middle-aged Puerto Rican woman who arrived here by way of Jersey City, delight in the gardens which the management staff has allowed her to plant in front of her apartment. The complex's new owners also built a brightly colored playground, where children of Skyview Park amused themselves whenever they could. Where once parents feared for their children, Skyview now has become, according to a single father from Columbia, South Carolina, a "great place to raise children.""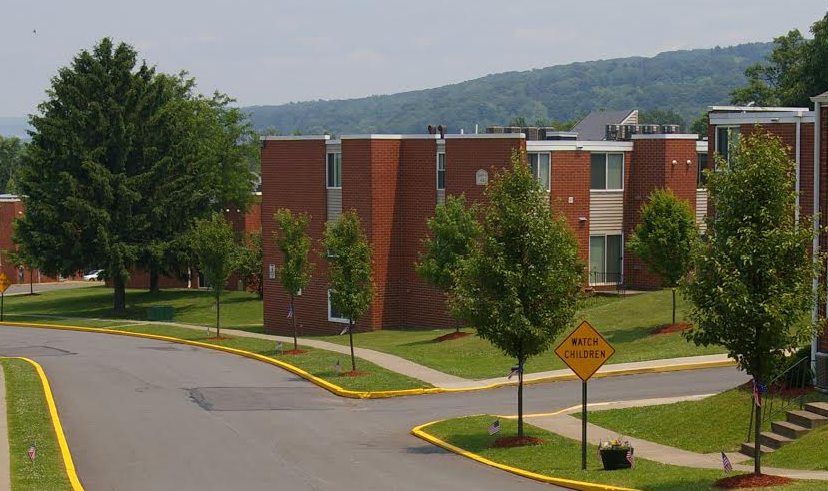 The research for this series of case studies was conducted with the support of the John D. and T. MacArthur Foundation.
Joint Center for Housing Studies, Harvard University
© 2014 by Alexander von Hoffman. All rights reserved. Short sections of text, not to exceed two paragraphs, may be quoted without explicit permission provided that full credit, including © notice, is given to the source.
Any opinions expressed are those of the authors and not those of the Joint Center for Housing Studies of Harvard University or of any of the persons or organizations providing support to the Joint Center for Housing Studies.