Contact: Rich Franz-Under, Green Building Program Manager, Development Services
Rich Franz-Under@pima.gov 520-740-6892
The U.S. Green Building Council Awards Sentinel Plaza Senior Housing LEED Gold Certification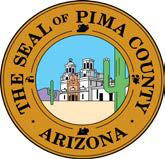 Downtown Tucson has another LEED-Certified Green building: Sentinel Plaza, at 125 S. Linda Avenue. The facility opened in August 2012 for low-income seniors moving from an existing building on the east end of downtown Tucson. The U.S. Green Building Council (USGBC) gave it Gold certification for achievement in green homebuilding.
The six-story, 143-unit building is the first of its height to be constructed of Integra Block, an insulated, Arizona-produced, post-tensioned concrete block system. Recycled materials, low VOC paints and sustainably harvested woods are further examples of LEED requirements that were implemented into the building's design. Unlike the former Armory Park Apartments, every resident has a one-bedroom apartment. In addition, common areas like the fitness center, gathering room, and library are powered by rooftop solar panels.
In addition, the building is located in a new transit-oriented district in downtown Tucson that is certified Gold under LEED for Neighborhood Development. Sentinel Plaza affirms urban living can work for seniors. Residents have access to bus and streetcar lines, the University of Arizona, downtown, senior centers in the adjacent neighborhood, and The Loop--a linear greenway that provides open space and recreation opportunities along the Santa Cruz River. Developer Senior Housing Group and Evergreen Partners selected Tucson architecture firm Lizard Rock Designs and W.E. O'Neil Construction to bring the project to completion.
"This is our second senior project that has been certified LEED Gold, and it was built at $110 per square foot," says Tom McQuillen, Principal at Lizard Rock Designs. "We incorporated a lot of sustainable design features that produced a tangible benefit for the residents." For example, a big expense for seniors besides rent is the energy bill, and McQuillen says, "We visited residents in the middle of the summer, and they didn't have the air conditioning turned on. The building is so well insulated, they didn't need AC." In addition, the "tight" building design means doesn't get in; ducts are also covered during construction, providing a really clean indoor air environment for seniors.
"This building shows that the Board of Supervisors 2007 Sustainability Resolution is making a difference in our community," says Rich Franz-Under, Green Building Program Manager for Pima County. He points out that the green building program was a product of the Sustainability Resolution, created to support local builders to benefit from the LEED for Homes healthy homes for our seniorsery strong properties that operate well and contribute to our financial strength and ability to get the next deal done.