By Teya Vitu
http://www.downtowntucson.org/2011/10/seniors-get-first-look-at-new-armory-apartments/
Seniors Get First Look at New Armory Apartments
Senior citizens living in the Armory Park Apartments got their first look Oct. 17 at the tentatively called New Armory Apartments on the West Side that will become their new homes in late 2012.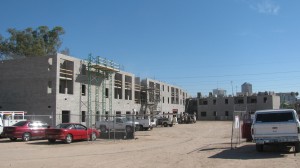 The six-story block structure has taken enough shape that Steve Greenbaum felt comfortable inviting dignitaries and the Armory Park residents to the construction site for a celebration under a tent.
Greenbaum, president of Senior Housing Group, has worked for four years to win over Armory Park Apartment residents, neighborhood advocates and government officials to his vision to relocate these low-income seniors to a new neighborhood west of the freeway.
Greenbaum acknowledged the simultaneous "healthy skepticism and ardent support" for his vision to move more than 100 seniors from their established homes in the aging Armory Park structure to much roomier accommodations along West Congress street.
"The residents have been extremely generous in welcoming me in their homes," Greenbaum said at the celebration.
Joanne Richardson, an Armory Park Apartments resident, said she and her fellow residents embrace their new home, especially after Greenbaum agreed to pay their moving costs.
"That's been added," Richardson said. "A lot of the older ones were worried about moving their things. They will move our things."
Richardson will move from a 400-square-foot efficiency unit to a one-bedroom apartment that is 60 percent larger.
"It is an excellent thing," she said.
Richardson dismissed earlier reports that seniors were grumbling that they were being moved away from the neighboring Armory Park Senior Center.
"They are going to bring a free bus to come and pick us up," she said.
She read two poems at the gathering. Part of one read: "Now everyone will have more space to enjoy our family and friends. Let's embrace this move. It's another beginning, not an end."
Greenbaum expects the 143-unit complex to be ready for its residents some time in the second half of 2012.
Mayor Bob Walkup said the New Armory Apartments is another ingredient in his vision of Downtown having mixed-income neighbors, including professionals, retirees, students, upper-income and lower-income people.
"Downtown means affordable housing, market rate, it means students," Walkup said. "This is just the continuation of a vision of the residents for the investment and improvement of their neighborhoods."
These apartments are in the ward of Councilmember Regina Romero, who contrasted the more than a century old Menlo Park Neighborhood with the 21st century Mercado District of Menlo Park and its sister development, the Mission District, where the New Armory Apartments are the first project under construction.
"Here you are standing in one of the oldest neighborhoods in Tucson and one of the newest neighborhoods in Tucson," Romero said.
Councilmember Steve Kozachik also showed up at the celebration: "This is progress. This is a catalyst. This is a good start."
The $17 million apartment complex will have 650-square-foot one-bedroom apartments with each on the upper floor offering a balcony and the ground floor units will be slightly larger, Greenbaum said.
This project is meant as a one-for-one replacement for the 143-unit Armory Park Apartments, 211 S. Fifth Avenue, where most of the studio apartments measure 412 square feet.
Greenbaum is transferring the its federal Section 8 low-income housing subsidies the new West Side structure and extending the Section 8 status until 2041. He also received a $2.85 million annual low-income housing tax credit from the Arizona Department of Housing that could ultimately be worth as much as $28.5 million.
The project is a collaboration between Senior Housing Group and Evergreen Partners.