http://admin.housingonline.com/Documents/TCA%20Issues/TCAjulY2012.pdf
Tax Credit Advisor Magazine, July 2012
Making Complex Preservation Deals Work is Charlie Allen's Specialty
Charlie Allen, a principal of Evergreen Partners in Ipswich, Mass., has a ready answer when asked why he likes being an affordable housing developer. It's solving problems.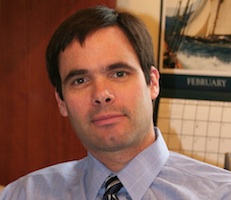 "I like the fact that at the end of these complicated transactions, we can stand back and feel like we've created a very good result for residents and communities. That helps us stay motivated to solve the many problems that inevitably come up and threaten to thwart the things we're trying to do."
For Allen and his fellow two principals at Evergreen, Brian Poulin and Bill Houlihan, complication and problem- solving stem from the types of projects they specialize in, namely the rehabilitation and recapitalization of older federally assisted multifamily housing properties using funding sources such as low-income housing tax credits (LIHTCs) and tax-exempt bonds with new federal project-based rent subsidies.
"We own just about 5,000 apartments in 30-odd properties," says Allen, "virtually all of which are older federally assisted properties: either [HUD Section] 236s, (d)(3) BMIRs, or (d)(3) Section 8s that we acquired and rehabbed, almost always using tax credits, either 4% or 9%. Our affiliated company manages them, and we continue to own them and hold them as affordable."
Geographically Diverse Portfolio
The company's properties are all over the map.
"Because we focus on a narrow range of property types and because we're based in Maine, where there aren't that many properties to work on, we're quite spread out," Allen notes. "We do have concentrations in the Mid-Atlantic; Maryland, Pennsylvania, and New York are states that we're quite active in...We've also got a number of properties in Missouri and a number in Michigan."
Yet it's not all east of the Mississippi. "Right now we're doing a project in Tucson and another in Colorado," Allen explains. Another current project is Briarcliff Summit in Atlanta (see below).
According to Allen, the Portland-based company's projects come about "mostly through relationships. And often transactions that we've done will lead to conversations about other transactions."
"We got into the transaction we're working on in Tucson because of the experience we had gained in doing a similar HAP contract transfer a few years ago," says Allen. In this deal, Evergreen is partnering with a local developer and building a new 143-unit elderly property to accommodate the tenants and Housing Assistance Payments contract to be transferred from an existing HUD Section 236 property, which will eventually be demolished or converted to another use. "The developer who was involved in the front end of the Tucson effort learned that we'd accomplished a similar result somewhere else," notes Allen. "And so we started a conversation that led to us becoming partners in this deal." (For story on deal, see Tax Credit Advisor Magazine, May 2012 , p. 4. http://admin.housingonline.com/Documents/TCA%20Issues/TCAma012.pdf)
Allen says Evergreen is "attracted to properties that are screaming out in need of preservation...We're looking for properties where we can make a big difference. If you're picking your spots about where to invest your energy, the more that you can accomplish in a redevelopment transaction, the more likely it is that you're going to garner the support and resources to get it done."
Regular current sources of LIHTC equity for Evergreen Partners' projects include direct investors Wells Fargo and PNC. For construction and permanent debt financing, regular current sources are Bank of America Merrill Lynch, Deutsche Bank, Prudential Mortgage Capital, and RED CAPITAL.
From Public to Private Sector
Allen became an affordable housing developer by starting on the public-sector side.A native of Beverly, Mass., he graduated in 1984 from Lewis & Clark College in Oregon, majoring in psychology, but then returned to Massachusetts because of the terrible economy in Oregon at the time. "My first real job that I got when I moved back here was for the Gloucester Housing Authority," he recalls. "Among other things, I was a Section 8 inspector."
He explains, "When I couldn't find a real job in Oregon, I was painting houses and doing some light construction. And that experience enabled me to claim some capabilities to the Gloucester Housing Authority in terms of inspecting units and running a [state] moderate rehab program that they had going at the time."
Allen subsequently went to the state of Massachusetts' executive housing arm, then called the state Executive Office of Communities and Development (EOCD), where he had responsibilities relating to expiring federally assisted rental projects. After a couple years he moved on to Recapitalization Advisors, a Boston-based consulting firm, spending a dozen years as a consultant structuring preservation transactions. In 2002 he made the career change to developer, establishing Evergreen Partners with Poulin and Houlihan.
Ever-Changing Challenges
Ten years and a few boom-and-bust cycles later, for both real estate and the LIHTC equity market, Allen continues to work on preservation transactions, tackling the ever-changing challenges as they come along.
"Five years ago," he says, "the difficulty was finding properties to buy and competing with people with lots of money who weren't necessarily going to do the right thing for the real estate, but nonetheless were making it hard for preservation buyers to compete just on purchase price.
"Now our challenges are a little different.
It's a little bit less difficult to make purchase prices work. But there's obviously a real scarcity of resources. While the [LIHTC] investors have come back into the market pretty strongly, it certainly remains a lot more difficult to get bond deals to work than it used to be."
Says Allen, "People always say that, 'Jeez, this gets harder every year.' And I kind of agree that it always feels like it gets harder. But really I think the challenges just change."
Briarcliff Summit: Atlanta, Ga.
Briarcliff Summit, a 200-unit apartment building that has suffered financial problems and physical neglect in recent years is about to get rejuvenated by developer Evergreen Partners.
The company is preparing to renovate and recapitalize the historic nine-story, H-shaped brick building, using equity from a mix of federal and state tax credits and other resources in a $28.6 million transaction. The property is now occupied by low-income elderly and disabled tenants, who will be temporarily relocated to vacant apartments within the building while their units are upgraded. Upon completion, 85% of the units will be reserved for senior tenants earning 60% of less of the area median income (AMI), and 15% for senior tenants at 50% or less of AMI.
Located in the Virginia Highlands neighborhood, Briarcliff Summit is listed on the National Register of Historic Places and has had a rich past. It opened in 1925 as "The 750," a luxury apartment complex, but years later was converted to the 400-room Briarcliff Hotel, which had some local renown.
"When you talk to people in Atlanta about the property, you'll find that somebody's parents met at a ball at the Briarcliff Hotel," says Charlie Allen of Evergreen Partners. "There were just lots of events and it was a significant landmark for a long time."
In the 1970s, the building was converted back to conventional apartments, and in the 1990s new owners purchased and renovated it for use as affordable apartments for low-income seniors, using 4% federal low-income housing tax credits and tax-exempt bonds. Around 2006, the owners made plans to convert the project to condos after the expiration of the 15-year tax credit compliance period in 2011. But in the ensuing period, the soft local market negated that plan and the property by now was financially troubled and in deteriorating physical condition because of deferred maintenance. In fact, it had failed several HUD "REAC" inspections.
Evergreen Partners first expressed interest to the owners in buying the property three years ago, and finally reached an agreement in 2011. The firm has yet to formally acquire the property, but expects to close on the transaction in the second or third week of July and begin construction in August.
Primary anticipated funding sources are about $18.9 million in equity from the sale of federal and state housing and historic tax credits, a HUD-insured Section 221(d)(4) mortgage of about $7 million, and a $1.5 million low-interest loan from the Atlanta Development Authority. A new 20-year contract for project-based federal rental assistance for all units will be executed as well.
In January, Evergreen, in its second attempt, received an award of $1.375 million in 9% federal housing tax credits for the project from the Georgia Department of Community Affairs (DCA), which waived its per-project cap of $950,000. The agency's Laurel Hart said the project scored well in Georgia's funding round "because it proposed what we call a superior project concept, which is the tenant base, the location of the project, and the market for that particular area." She said the project also had neighborhood support.
"We'll be doing a very comprehensive rehab, spending about $60,000 an apartment," says Allen. "That will get us virtually new everything: windows, roof, elevator, kitchens, bathrooms, flooring, HVAC, lighting, ventilation systems. Everything needs to be replaced at this point."
After completion, Allen estimated that initial monthly gross rents for the apartments – mostly studios and one-bedrooms with some two-bedrooms – will range from $750 to $900.