By: John Becker
http://vahi.org/extreme-makeover-vahi-style-briarcliff-summit-gets-much-needed-facelift/
Extreme Makeover, VaHi-Style: Briarcliff Summit Gets Much-Needed Facelift
Distressed Landmark VaHi Building with Rich, Colorful Past Looks To a Brighter Future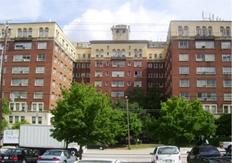 It'd be hard to live in Virginia-Highland and not have some awareness of Briarcliff Summit.
Many know and cherish the tremendous history that almost oozes from the nine-story building on the northwest corner of Ponce de Leon and N. Highland Avenues. After all, "The Seven-Fifty" – as the building was originally known – was built in 1925 by Asa Candler, Jr., son of the famous Coke mogul. At the time, its luxury apartments were considered some of the finest in the city, with famous tenants like Al Capone. The building is even listed on the National Register of Historic Places.
But others, while acknowledging the building's period architecture and intriguing past, look the other way when they stroll by. They're far from proud of the perception of crime and drug use that's historically plagued the area around the property, and they've cringed while watching the building's former owners let the proud landmark fall into disrepair.
Today, the 200-unit building provides quality, affordable housing to the elderly, many of whom live with disabilities. Much of the housing is provided under the government's Section 8 program.
I count myself among those who have some awareness of both the good and bad about Briarcliff Summit, but I have to admit I'd never been inside the building, nor had I ever really met any of its residents. I'd pass by some of them on the corner as I'd walk to and from Poncey-Highland, and I'd often say hi. But I'd never really met them.
So, against the backdrop of a new owner who's extensively renovating the property, I decided to pay a visit to get a sense of what Briarcliff Summit is all about.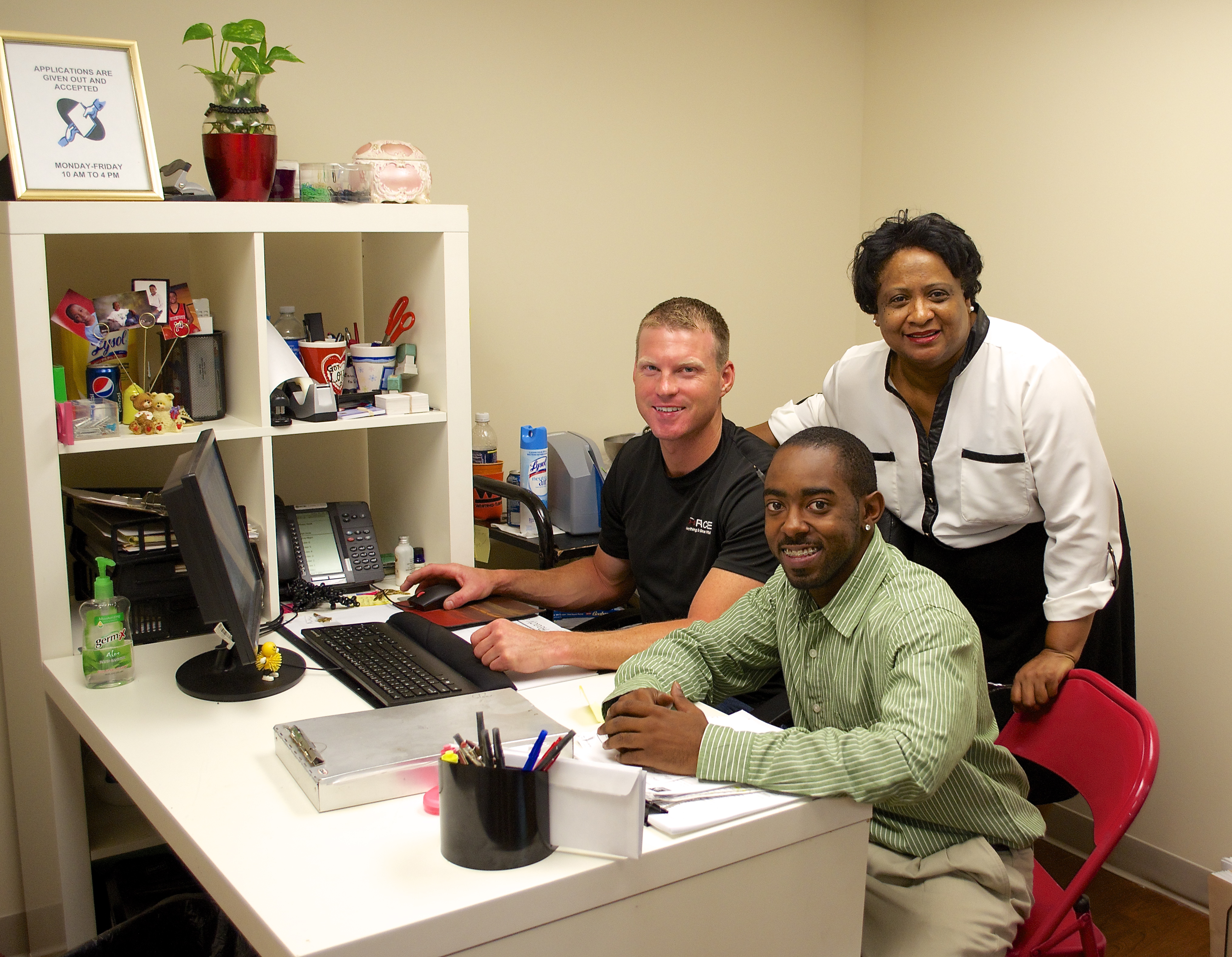 Labor of Love
I met on a recent hot afternoon with Annie Copeland, site manager at Briarcliff Summit. The property's management team had only recently moved into new offices that come with central air instead of the old window units that were a pre-renovation fixture of the building. Although still largely "working out of boxes" while organizing the new space, Copeland commented that the new offices are just the latest part of improvements that began over a year ago.
Briarcliff Summit property manager Annie Copeland (right)
with relocation coordinator Brandon Copeland (front) and technician Brian Arterburn
"Things are really looking up at Briarcliff Summit," she says with a smile.
'Miss Annie' – as her residents know her – has been the building's property manager since May 2010. With 23 years of Atlanta property management experience, Copeland was overseeing a nice development in Covington when she was contacted about the VaHi job. The building's owner at the time sought her out because of her reputation for turning around distressed properties.
After she was offered the job, Copeland and her husband Charles drove over one afternoon to check the place out. She took one look at the dilapidated building and the throng of residents sitting around outside, turned to her husband and said, "Turn this car around and get me out of here as quickly as possible!"
So why did Copeland end up taking the job? After returning home she sat down with her husband and they talked about what they'd seen.
"Charles looked me in the eye and said, 'Annie, they need you at Briarcliff Summit. They don't need you in Covington any longer.' When he put it that way, I knew what I had to do."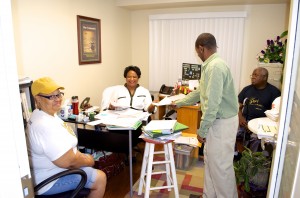 Annie Copeland and Brandon Copeland meet with new Briarcliff Summit residents.
The day she started, Copeland realized the owners were looking to sell the severely distressed property and, as such, were unlikely to invest seriously in making improvements. Over the next year and a half, she saw more than a dozen potential buyers take a close look at the 88-year-old building that had no best foot to put forward.
Then, in January 2012 – after securing long-awaited tax credits from the Georgia Department of Community Affairs – Portland, Maine-based Evergreen Partners announced it would buy Briarcliff Summit and start major renovations that summer.
It's not uncommon for a new owner to bring in their own management team, but one of the first things Evergreen did was ask Copeland if she'd stay on as property manager.
"I was really hoping they'd ask, so I said yes immediately," Copeland says. "Even better, they let me keep my entire staff!"
Briarcliff Summit isn't an assisted living facility, so there's no on-site medical staff. There are two resident service coordinators – Ed Pierre and Karma King – who coordinate with local service agencies to look after the vast majority of resident needs. Using a comprehensive database of medical and other support services, these coordinators can cover just about any need a resident might have. Copeland's other staff members are assistant manager Shantell Lane and maintenance technicians Ronnie Long and Charles Harper.
Recovering from Years of Neglect
Apartment Interior, before and after renovation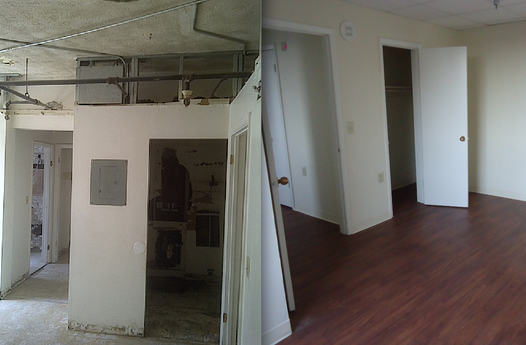 Workers arrived in September 2012 to begin renovations and have been a regular presence at Briarcliff Summit ever since. Copeland says the building could easily be filled to capacity, if it weren't for the need to have an inventory of vacant units available during the renovation. The plan calls for relocating residents so entire floors can be completed every four weeks, with the entire project taking about 18 months.
"One floor at a time," Copeland says, "residents in units set to be renovated are moved into recently updated apartments – permanently – and work begins on the vacated units. We all come in one weekend each month to help with the move and to make sure each resident gets settled into their new apartment."
Both the exterior and the interior of the building are being restored. History buffs will be pleased to know the historic components of the structure are being preserved. In fact, plans to refurbish the facade of the building had to be approved by the United States Park Service, which oversees the National Historic Registry.
Kitchen, before and after renovation.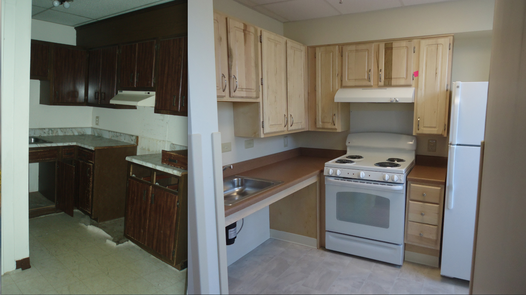 The common areas of the community are undergoing significant upgrades, and each apartment unit is being upgraded with new energy efficient thermo-pane windows, flooring, Energy Star appliances, countertops, cabinets, lighting, doors, window coverings, VOC paint, and bathroom and kitchen fixtures. Old window AC units that should have been retired long ago are hauled off, and central air conditioning is installed.
Another big improvement is a new wellness center – complete with two private conference rooms – where visiting medical staff can tend to resident needs. Today, staff must clear an existing library of all tenants to provide a place where doctors can meet privately with patients.
"The wellness center is just one example of improvements designed to create an environment in which residents won't need to leave the building unless they want to venture out into the community," Copeland says. "They won't have to leave to seek out a service that's not available here."
Apartment bedroom, before and after renovation.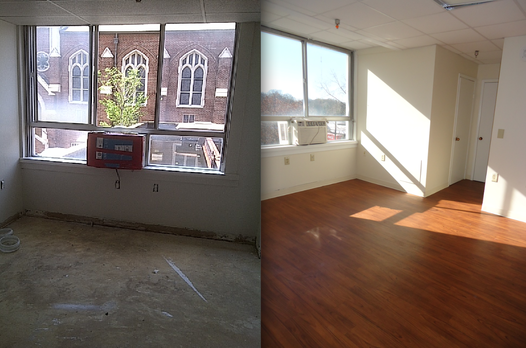 Additional amenities in the works for residents include a fitness center, a 9-workstation computer room (to augment the existing library), an arts and crafts room, and a new common area with new furniture, a flat-screen TV and pool and ping-pong tables.
Cost to the building's fixed income residents for all the improvements? Not a dime. On top of that: no increase in rent.
"Evergreen Partners saw the benefit of making this a livable property that we can be proud of again," Copeland says, "and for that we're all grateful."
Eleven months into the renovation, Copeland says the project is right on schedule.
"They're close to 60% done," she says. "They've already finished renovating all nine floors on the building's east side, now they're working on the west side and we just started on the 4th floor."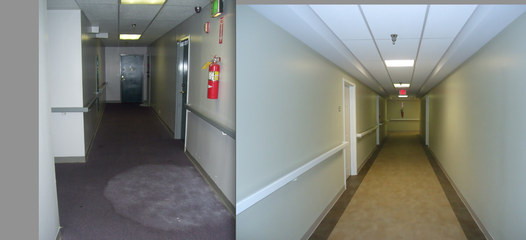 Copeland says she's optimistic workers will have the interior work finished by this coming December."There will probably be some landscaping left to do after that," she says, "including a redesign of the front courtyard. But by the end of this year, we expect the project to be completed and Briarcliff Summit will once again be a proud neighbor of the Virginia-Highland community."
Hallway, before and after renovation
Resident Reaction
Not surprisingly, Copeland says residents – some of whom have lived at Briarcliff Summit for close to twenty years and have watched the building literally decay around them – are thrilled with the improvements.
"Resident feedback's been incredible. Some actually cry when they see their new apartment for the first time," Copeland says.
I asked a few residents to share their thoughts with me about the improvements and what they like most about life at Briarcliff Summit.
"I have two more floors to wait before I get to move into my new apartment," says 13-year resident Connie Muntner. "I've seen the new rooms, though, and they look super – much better than what I'm in now. I love it here at Briarcliff Summit. The management's great and the staff take great care of us. With Publix right across the street this is a great location, and you can get just about anywhere you need to go by bus."
Todd Jenkins has lived at Briarcliff Summit for six years and has been in his new room for a few months. "The room's great…cleaner, newer. I miss my old window air conditioner, though."
4-year resident Janice Johnson has been in her new unit for a few months and loves it. "It's cleaner, neater and everything's up-to-date. I can't say enough about the management and the residents are great, too."
Gregory Ford's lived at Briarcliff Summit for three months and had only been in his renovated unit for three days when we talked to him. He was having a problem with his cable when we visited, but all in all he's thrilled with his new place. "The new room is very nice," Ford says. "Living at Briarcliff Summit is great because of the location – it's convenient for me to get to the doctor and other places I have to go. I like the area a lot, too."
* * * *
Plans are in the works for Briarcliff Summit's common area and an apartment or two to be added as a stop on the 2013 Virginia-Highland Tour of Homes in December. Organizers are optimistic this will happen – watch http://vahi.org/tour-of-homes/ for more information.
Click here to view an album of photos of Briarcliff Summit and the renovation.